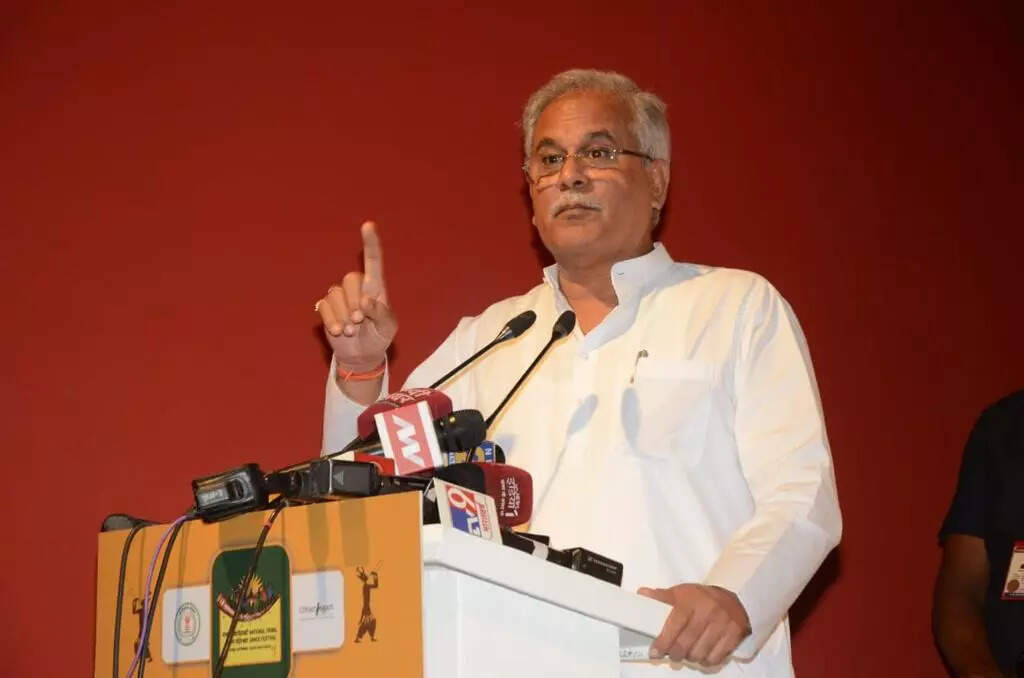 To promote Chhattisgarh's tribal art and culture and help the state grow as a tourism hub, the Chhattisgarh Tourism Board under the umbrella of the state's government organised a day-long Tourism Conclave on October 21 that was inaugurated by the Chhattisgarh Chief Minister Bhupesh Baghel.
In his address, during a press conference organised to launch the 'National Tribal Dance Festival' at Kiran Nadar Museum of Art, New Delhi, Baghel informed that around 32 per cent of the state's population comprises tribes and Chhattisgarh proudly boasts about its tribal culture in India and to the world.
Giving a glimpse into the upcoming festival, the CM said that through this festival, the culture and crafts of the tribal artists will be shared at the national and international levels and the development and upliftment strategies will also be discussed during the festival.
"Our government has taken several initiatives and started many schemes for ensuring the overall development of tribals in the last 3 years. National Tribal Dance Festival is an effort towards preserving the rich cultural heritage of tribals. With this, we are moving towards creating Chhattisgarh as the world forum for tribals," said Baghel.
"We have used our state's art, culture and tourism as a strong resource in the social and economic empowerment of the forest dwellers, tribals, farmers, villagers and people of the deprived sections. Fortunately, we have got great results," he added.
National Tribal Dance Festival (NTDF) is being organised in Raipur from November 1 to 3, 2022 in which more than 1500 artists will participate including over 100 overseas participants, as informed by Baghel. Invitation letters for participation have been sent to nine countries and the tribal artists from Mozambique, Mongolia, Tongo, Russia, Indonesia, Maldives, Serbia, New Zealand and Egypt will participate in the event, he said.
Last year, this festival saw a participation of over 3,000 artistes from India and abroad. Changing Chhattisgarh's perception through growth, trust and safety.
Dispelling the common perception that Chhattisgarh is ridden by civil unrest and Naxalism, Baghel said that a lot has changed after his government came into power. The state, he said, was now looking forward towards development and has seen good growth in the tourism sector.
"We have consciously focused on three principles – Vikas, Vishwas and Suraksha (growth, trust and safety)," said Baghel. The NTDF is an initiative towards gaining people's confidence in the state.
He added that the government has started working closely with the people of Bastar and efforts have been initiated to bring their culture and arts to the forefront with the means of promotional activities as well as offering employment, especially for the women. This has financially empowered them and the communities and increased their confidence.
"Chhattisgarh, being blessed with exceptional tribal culture and natural beauty, has immense tourism potential to become one of the top destinations for travel fanatics," he concluded.
CM Baghel, during the conclave, also visited the stalls featuring tribal art, dhokra (metal) jewellery and iron and bamboo art from Bastar and Kondagaon. Brands and organisations like Mawa Kondanar, Bhumgadi, Sringar showcased their crafts, art and edibles.
Minister of Tourism, Tamradhwaj Sahu, conveyed his message on this occasion, "National Tribal Dance Festival has been a pivotal initiative to boost state tourism and generate opportunities of employment for local people. The Chhattisgarh Tourism Board recognises the growing demand for special community based experiences. We invite people to come and join us in the celebrations of the National Tribal Dance Festival and also explore the tribal areas of the state to experience tribal culture and traditions."
Two panel discussions – 'Building a New Tourism Narrative in Chhattisgarh' curated by ETTravelWorld and 'How Fashion and tribal craft inspire each other and create sustainable ecosystems' – were held as part of the conclave.
The panel, Building a New Tourism Narrative in Chhattisgarh: The Challenges and the Industry Perspective led by Navneet Mendiratta, editor ETTravelWorld in conversation with Anil Sahu, Managing Director, Chhattisgarh Tourism Board, Jyoti Mayal, President, Travel Agents Association of India, Rakesh Mathur, President, RTSOI, Shoba Mohan, Founding Partner, Rare India and Kumar Anubhav, Founder, NotOnMap highlighted on the need to create valuable experiences for domestic tourists by involving local communities and changing the current outlook towards Chhattisgarh as a tourist destination.
How Fashion and tribal craft inspire each other and create sustainable ecosystems talked about bringing tribal craft and practices to the limelight. Panelists Apurva Kackar, Chief Marketing Officer, KNMA, Amit Agarwal, Couturier and Radhika Chhabra Business Head, Jaypore in conversation with Yasmin Kidwai spoke about their personal experiences works with the Tribal community and the potential in exploring tribal crafts and textiles in mainstream fashion.
The one-day tourism conclave rounded off with a special Pandavani performance by Padma Vibhushan Teejan Bai. The press conference was also attended by Chhattisgarh Labour Minister ShivKumar Dahariya and the Managing Director of the state's tourism board, Anil Kumar Sahu.
The state has been striving to help tribal communities become part of the mainstream while preserving their distinct way of life, said Sahu.
The tourism conclave was organised in association with the Kiran Nadar Museum of Art, which further expressed hopes to explore a deeper alliance with Chhattisgarh tourism to highlight and preserve the tribal heritage by developing initiatives that promote the tangible and intangible parts of the tribal culture.