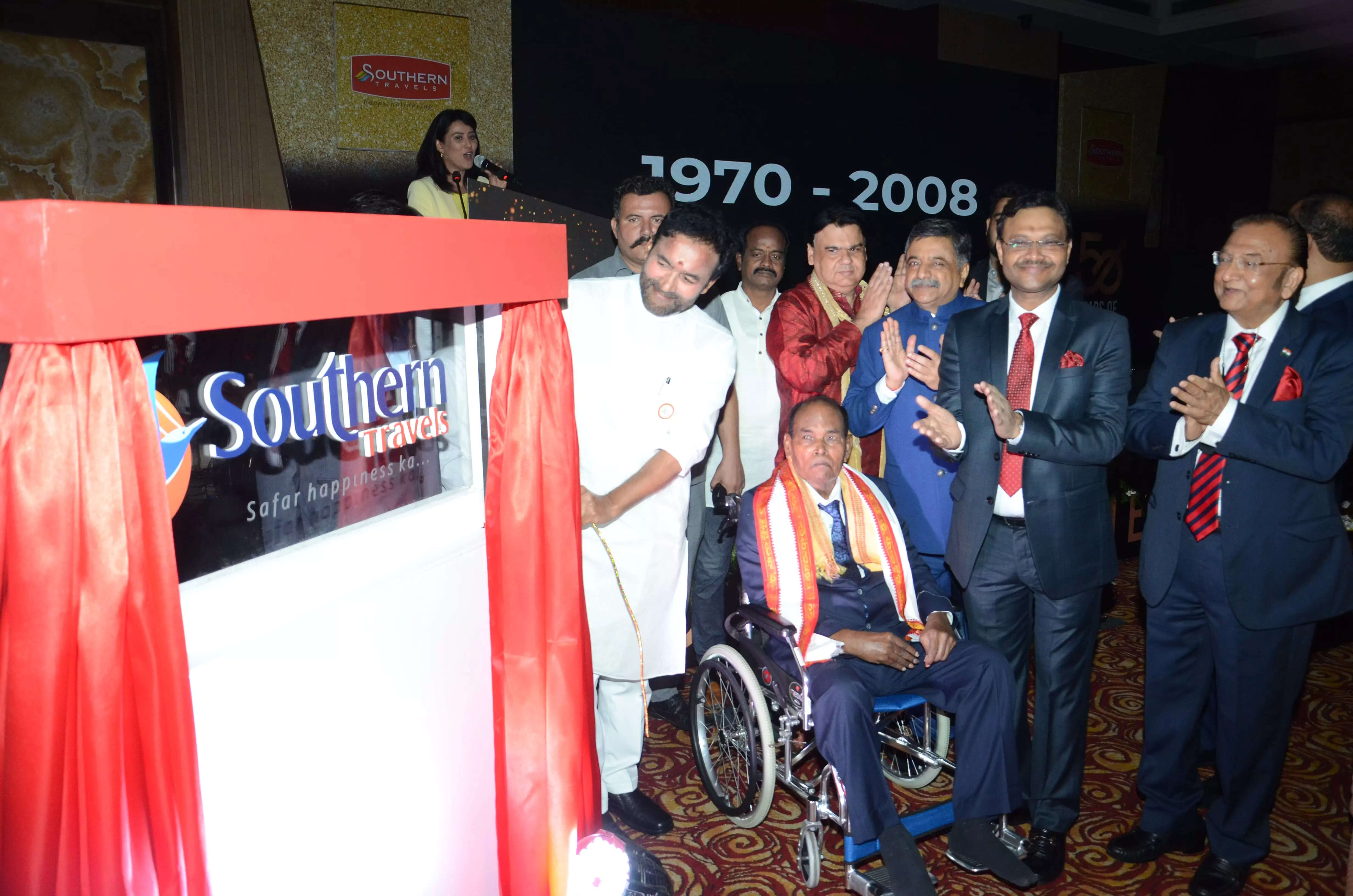 Celebrating its five decades of excellence in catering to the needs of travellers with integrity and passion, one of the forerunners in the domestic tourism space, Southern Travels, has made a definite mark in the Indian tourism industry ever since it was launched in 1970. Moving forward with this legacy of 50 years and with its expertise in individual tours, visas, fixed departures, incentive holidays, hotel bookings and more, Southern Travels is now on an expansion spree.
Speaking to ETTravelWorld on the sidelines of his company's Golden Jubilee celebrations, A Krishna Mohan, Managing Director of Southern Travels mentioned the company's vision to open offices overseas and possible strategies to expand its India presence.
"Currently, the company owns 11 offices across India with a fleet of its vehicles and a team of 450 travel professionals that cater to over 1.5 lakh tourists every year. Our new CEO, Jatinder Paul Singh, comes with great industry experience and knowledge. Going forward, in 2023, we will register the company's presence as a service provider with the travel brand stores in over 100 Indian cities out of which 50 will be opened in March 2023, followed by the other 50 opening in December," he said.
"From South India to South East Asia by 2024 and gradually into US, Europe, UK, Canada and Australia- that's what our overseas expansion goal is," Mohan added.
The Golden Jubilee celebrations saw a new brand logo being unveiled by Tourism Minister G Kishan Reddyon September 14, 2022, at The Lalit, New Delhi. "With all the devotion and dedication to promoting India in domestic and international arenas, Southern Travels has indeed taken forward our country's legacy of Atithi Devo Bhava. I feel delighted to manifest the contribution of Southern Travels to travel and tourism in South India," said Reddy while adding that it is the company's strong commitment towards tourism guided by ethical values deeply rooted in Indian culture that has made these 50 years successful and possible.
According to Mohan, Southern Travels is one of the first companies that was granted an 18-room + 36-dormitory beds facility inside the Kashi Vishwanath Temple Corridor, which was launched by PM Modi last year. This is expected to boost visitor traffic to the religious site as well as allow senior citizens and other pilgrims to experience the darshan from closer quarters with ease.
"Travelling in India today is no longer the same as what we experienced back in the 70s. It was considered a luxury for most people and people saved little money to travel," said Mohan when asked about the changes in the Indian tourism industry trends during his decades of experience.
"Today, it has become 'a need', a requirement to move away from the day-to-day stress and busy lifestyle. Even the pandemic has brought back travel much better than it ever was; people are realising the need to socialise more and therefore, seeing this huge demand, we jumped on the bandwagon too and decided to restructure the company as per the demands and trends," Mohan shared.
Southern Travels, recognised as the number #1 domestic tour operator eight times in a row by the Ministry of Tourism, was started in a small 10X10 shop in 1970 by the Chairman, AV Rao. It was later converted into a Private Limited Company in 1995 and ever since then, there is no looking back.
To date, Southern Travels retains the values of serving the clients with transparency and the 'customer-first' approach.